Travellers visiting Australia usually visit beaches in the south, around Melbourne and Sydney. Indeed, these regions are full of great beaches. Still, it's good to know there are some breath-taking places for swimming and sunbathing in the northeast of Australia. One of such places is Airlie Beach, Queensland, located some 700 miles to the north of Brisbane. It's a secluded and tranquil refuge for regular tourists, backpackers, and road trippers. The latter ones can get a free campervan to explore the stretch of coast between Brisbane and Airlie Beach. And here are some suggestions for a frugal stay at this beach.
Lounging at the Lagoon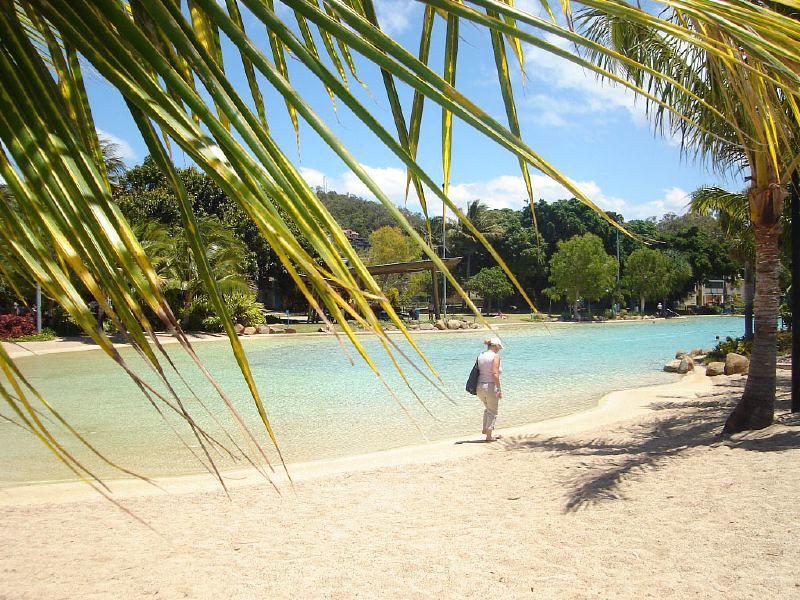 The Airlie Beach Lagoon is the heart of the entire beach. Lined with palms, it's a sand beach with a grassy area in the background. As such, it gives you a combined feeling of tropical heat and park calm. The access to the beach is free. You can just spread your towel and start ogling the azure colours of the Pacific Ocean. The Whitsunday Islands are right across the Pioneer Bay so you can go on a boat trip to these islands. In addition to this, the Lagoon is rich with various restaurants and bars where you can have a snack or get a refreshing drink.
Strolling along the Airlie Creek Track
The Airlie Creek Track goes from Airlie Beach to the hills in the background. It's only 850 m long but it offers a plethora of unique tropical plants and gigantic trees. There are usually some colorful, local birds around the grove surrounding the track, which is a real treat for bird watchers. You can enjoy the mesmerizing view of the Whitsundays on your way back.
Visiting Conway National park
People coming to Airlie by car might want to use their vehicle to visit some other places nearby. Conway National Park is located only 26 km away from Airlie Beach to the south. With dozens of different walking trails and hundreds of plants, this area is a pleasant contrast to the hot Airlie waterfront. It's recommended to use this park as an afternoon getaway from Airlie in high seasons. That way, you can enjoy the late afternoon shade and quiet of this lush place.
Scoring deals at beach markets
If you want to feel something genuine at Airlie Beach, visit the local Airlie Beach markets. Usually held on Saturday mornings, these events awaken some local crafts through handmade souvenirs. Also, if you're staying at Airlie Beach for several days, these markets are the right place to get some fruit and local specialties for your fridge. After buying the traditional local stuff, feel free to add a grain of international cuisine by having lunch at the La Tabella trattoria.
Watching cane toads races
A very local thing, the races of cane toads are something that every visitor to Airlie needs to see. Basically, you can go to the Magnums hotel, get a local craft beer, and see one of these races. These races represent a long tradition of the Queensland area. They're usually organized on Thursday evenings. You can even choose your favorite and place a bet on one of the racing toads.
Having lunch on the Foreshore
The Airlie Foreshore is the frontal area of the beach where you can have a barbecue in the open air. After a long day at Airlie and some other beaches in its vicinity, this will help you enjoy the night in a slow and tasty way. If you feel comfortable enough, you can even go swimming after this dinner. Instead of having a meal at a fancy restaurant, this is an alternative way to feel Airlie at night.
Going to the Cedar Creek Falls
A stay in the Airlie area would be incomplete without visiting the Cedar Creek Falls. Situated on Saltwater Creek Road, right between Proserpine and Airlie Beach, these waterfalls are real eye candies. You can swim with turtles and climb the top of the waterfalls with butterflies flying around you. From the top, you'll witness some incredible scenery on all sides of the hill. Also, you can have a picnic in this area with the food that you bring with you.
Experiencing Dingo Beach
About 45 km away from Airlie, Dingo Beach is one of the most beautiful places in this area. The town behind this beach is very small, with only one pub and one street. However, the beach gives you the essence of the sun, the ocean, and the sand – the three basic things that you need to lounge and chill on a warm summer afternoon. So, if you've already rented a free transfer car or campervan, drive it to this scenic beach and see for yourself all its beauty.
Airlie Beach might not be as famous as Bondi or Coogee, but it has preserved its natural feeling. When you're at this beach, you feel modernism and tradition at the same time. And when you see some marvelous places in the vicinity of Airlie, you realize that every traveler to Australia should visit this part.