The Kimberley region of Australia is definitely one of the prettiest this great country has to offer. Spreading across the vast stretch of northerly Western Australia, everything is super-sized, cast out into an iconic, other-worldly landscape. The unassuming town of Kununurra is a regional hub, having this rough-and-ready charm all of its own, in addition, to lending itself as a perfect base for exploring all there is to see in the eastern part of the Kimberley region, which is now even more affordable with free transfer car rentals. Here are the top things Kununurra and its surroundings have to offer. 
Cruising Lake Argyle
Spreading over a thousand square kilometres, Australia's largest body of freshwater, Lake Argyle, didn't occur naturally – it formed when the Ord River Dam was constructed across the river's narrowest point, in an immense feat of engineering that drowned pastoral leases, valleys and an entire mountain range. You can enjoy cruises, scuba diving, canoeing the Ord River Gorges, as well as gourmet camp oven experience.  And if you are into the wildlife, you'd be happy to learn that over a third of all Australia's birds can be seen here.  
Testing fresh produce
Visiting the Ord River Irrigation zone also gives you the opportunity to sample fresh and tasty local produce, which is usually picked from the neighbouring farms in the morning, packed at lunchtime and delivered to the open-door outlets only a few hours later. Depending on the season, you can find beef, watermelons, rockmelons, bananas, Kent pumpkins and – my personal favourite – mangos. You should also check out local spots as Lovells Gallery and Zebra Rock Gallery Café that not only exhibit artworks and organise workshops but also sell ice-cream, smoothies and cheesecakes made from the locally grown ingredients. 
Taking a scenic flight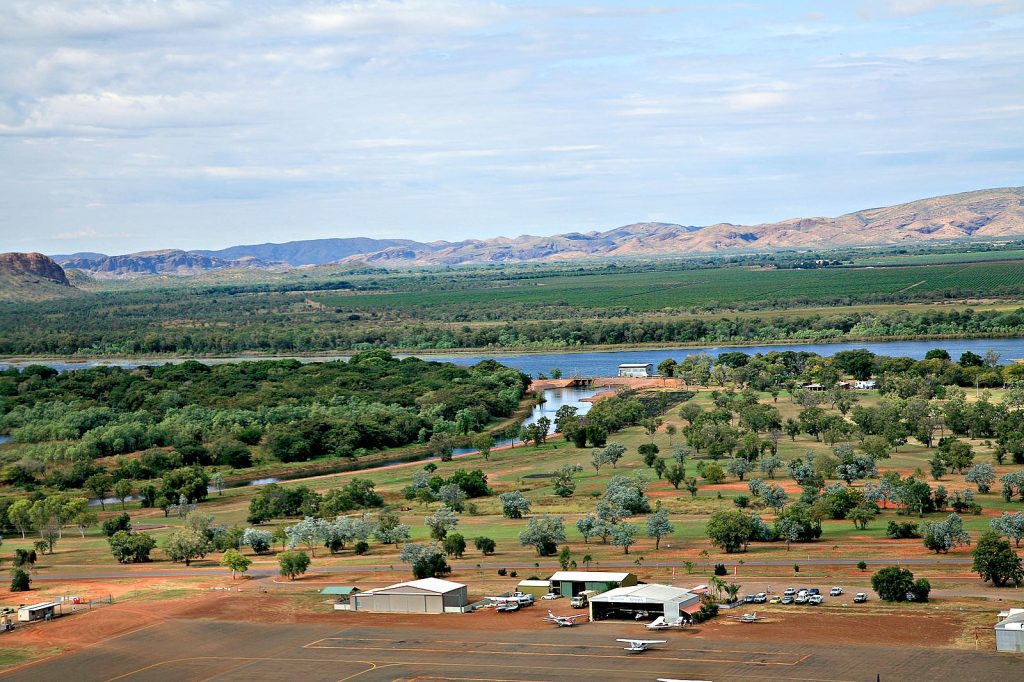 There are several options for fabulous scenic flights from Kununurra – you can opt for a seaplane, helicopter or light aircraft.  You can gaze at the majestic Lake Argyle, which holds almost twenty times the volume of water in the Sydney Harbour and look for sparkles above the Lake Argyle Diamond Mine, the place where the most of the world's pink diamonds can be found. The patchwork of farming land leading the way to the marvellous landscape and ancient beauty of the Bungle Bungles — the beehive domes in the Purnululu National Park – will also take your breath away. 
Discovering the Hidden Valley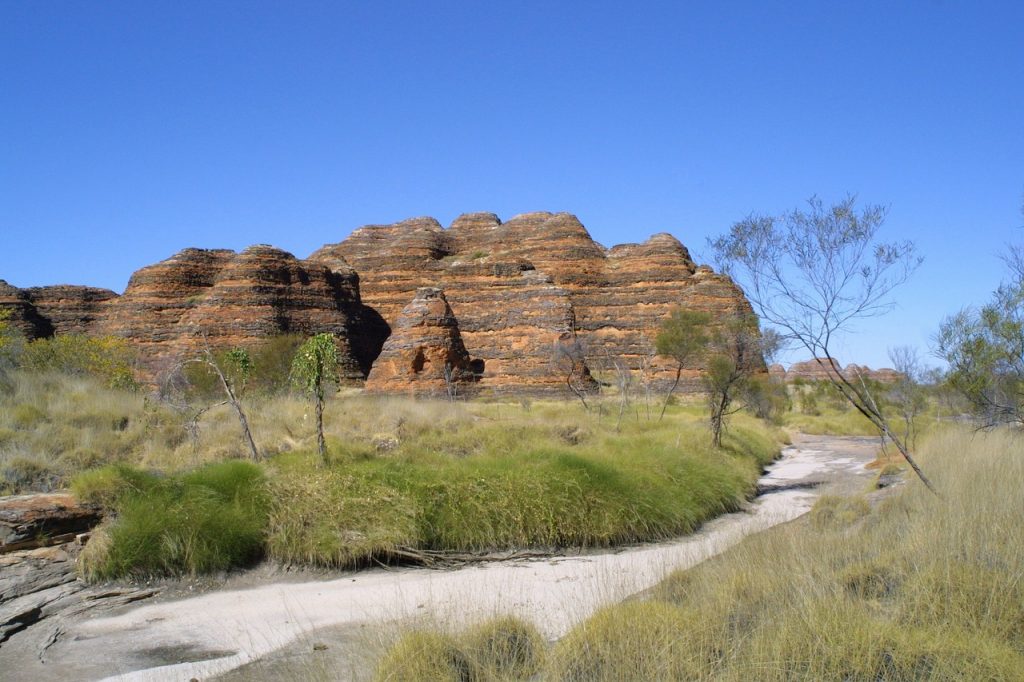 Mirima National Park, also referred to as the Hidden Valley is only a 5-minute drive from the town centre. With its distinctive striped domes, it is almost like a mini version of the Bungle Bungles. You'll find numerous walking paths and enjoy stunning views over Kununurra. You can also learn about the ways local flora was being utilized in daily Aboriginal life.
Enjoying Lily Creek Lagoon and the Sleeping Buddha
As its giant cousin Lake Argyle, Lily Creek Lagoon also wasn't naturally formed, but it's a perfect setting for a rock formation that pretty much resembles the Sleeping Buddha from Celebrity Tree Park and the Elephant's head from the Zebra Rock Gallery's vantage point, which is just down the road. For wildlife spotting, you'd be best advised to stay right on the banks of Lily Creek Lagoon. You can watch exciting bird-life hopping around, including the Crimson Finches and Comb-crested Jacana, also known as the 'Jesus bird'.
Hooking a big barramundi
Kununurra's waterways abound in barramundi fish (Asian sea bass), so if you are one of those keen fishermen, you'll definitely revel in reeling a couple of them in. You can hire a tinnie (you'll need a licence if fishing from a boat, though) or simply throw in a line from the bank of Lake Kununurra. Joining a fishing tour is also a good idea, as the locals who organise it will reveal you the best fishing spots.
Settling in for the sunset
If you like to feast your eyes on a truly spectacular sunset, head for Kelly's Knob lookout, located in the very heart of Kununurra. Panoramic views spread across the township and irrigation area, to some of the best-known attractions, including Lake Kununurra, the Diversion Dam, the Sleeping Buddha rock formation, as well as the nearby ranges. Take some nibbles and refreshments with you to make an occasion of it.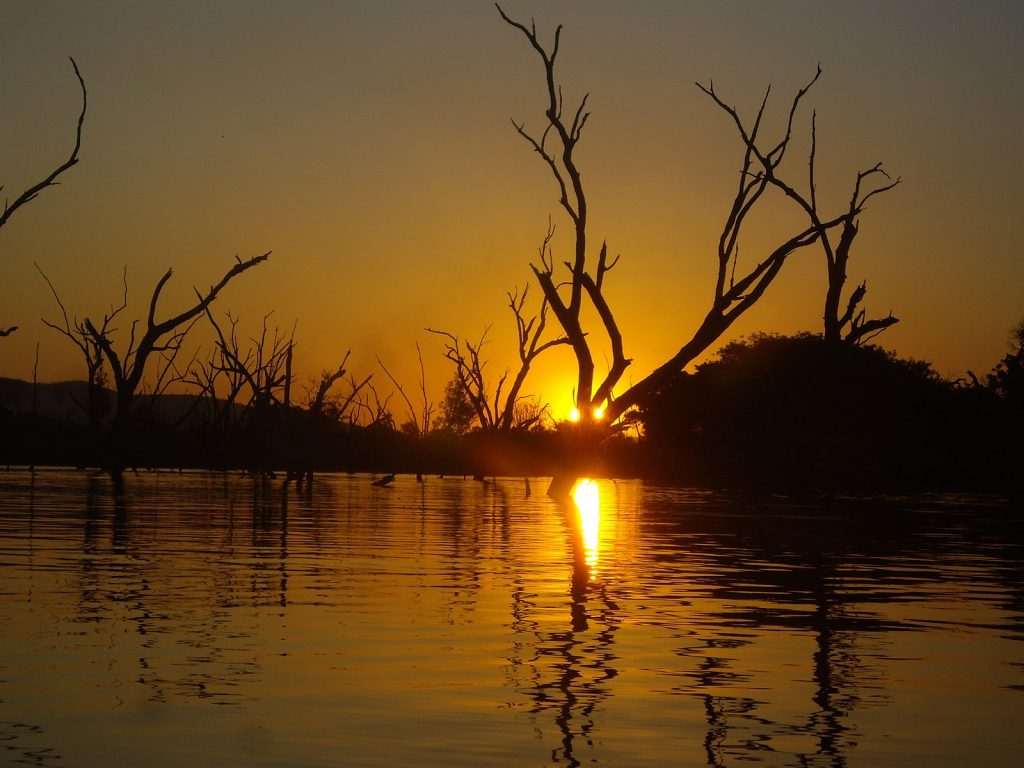 As you can see, the town of Kununnura is a precious little WA gem well worth exploring. If you want to make your visit comfier and more wallet-friendly, make sure you get a free car or campervan.