Coastal Queensland contains everything that attracts visitors to Australia: empty stunning beaches, archipelagos of islands and an abundance of national parks, some with fantastic walking trails. The Great Barrier Reef, the world's largest coral reef system, can be explored with day trips to its off-shore islands. Boat excursions enable visitors to go diving or to simply snorkel, as snorkelling is very easy there and offers plenty to be seen, including beautiful sea turtles.
You might wonder is this worth the trip if you only have a few days with a car or a campervan? Our answer is unequivocal: Absolutely!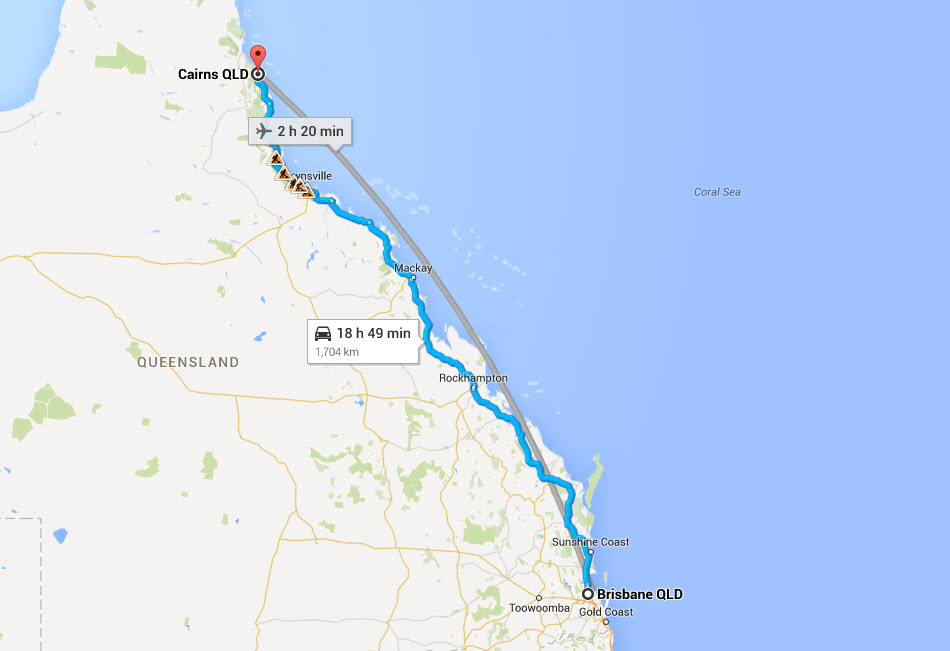 Say you have 7 days of free rental car from Brisbane to Cairns. That would be between 2 to 3 hours of driving per day on average… Come on, ain't that hard, is it? That leaves you with plenty of time to experience some of the beautiful beaches that are along the way.
Alternatively you can whizz through part of the way to leave more time to spend where you'd love to, and perhaps explore an island of the Great Barrier Reef.  This is exactly what we would do if we were you:
Day 1 – Brisbane to Hervey Bay (4 hours drive)
Get up early, pick-up the car as soon as you can and leave Brisbane behind and drive to Hervey Bay to make the most of its 14 kilometers of golden beaches. Its waters are home to turtles and dugongs so you might get lucky. It's also one the best places in the world for whale watching… You won't regret spending the rest of the day there.
Day 2 – Hervey Bay to Rockhampton (8 hours)
Drive through the towns of Childers, Gin Gin, Miriam Vale and Calliope to Rockhampton, the heart of beef cattle country. Not mind-blowing but interesting so have lunch there. This is what you could view from your car. Then drive all the way to MacKay. Mackay is surrounded by miles of sugarcane fields, which give the city its title of Sugar Capital of Australia. Have a well-deserved rest there.
Day 3 – Mackay to Airlie Beach via Eungella National Park (1h30)
Eungella National Park is situated 84km west of Mackay and is one of Queensland's most spectacular parks, with cloud shrouded peaks, deep gorges and lush rainforest. Spend a few hours there before continuing on to Airlie Beach. It's a popular holiday resort, and gateway to the marvellous Whitsunday islands.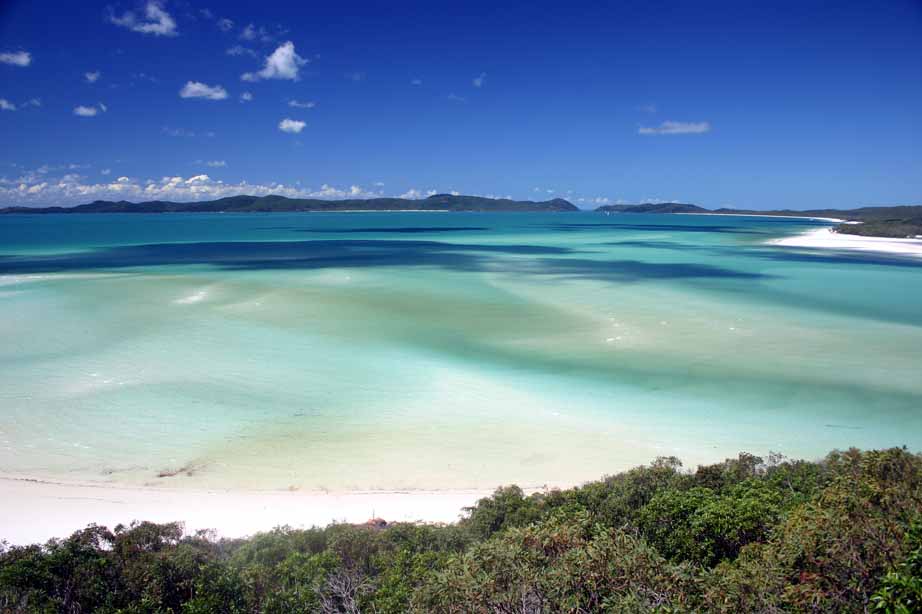 Day 4 and 5- One or two-day trip to the Whitsunday Islands (no driving)
This is when you leave the car behind and board a boat to visit one of the Whitsunday island. There are plenty of operators who enable you to see some of the best spots of the Whitsunday in just a day. Check out the selection of Whitsunday tours here. You also have time to spend a second day there if you wish. Once you're back on land, spend another evening partying at Airlie Beach!
Day 5 or 6 – Airlie Beach to Townsville (3 hours)
That's quite an easy and enjoyable drive to Townsville and you can be there before lunch. The other getaway to the Great Barrier Reef. Townsville is in itself quite a nice city offering a more than decent beach. Castle Hill offers a panoramic view of Townsville. Magnetic Island is worth a detour if you can afford it. Reef HQ Aquarium is one of the most popular attractions in Townsville and is well worth a visit with its walk-through underwater tunnel, giving a great all-round view of the coral and the fish. This could be the view from your car.
Day 6 or 7 – Townsville and surroundings (no driving)
Yes that's a second day without driving, or you could choose to spend two days there to explore the islands without having to drive. We told you this trip is worth it!! You could get to beautiful Magnetic Island or visit another island of the Great Barrier Reef.
Day 8 – Townsville to Cairns (4 hours)
So you need to drop-off the car this morning… just get up early and drive and you will be there in no time. Not to worry, once you have reached your destination there is no need for the fun to be over…. Cairns is a tropical paradise just begging to be explored with an infectious holiday vibe.  There's plenty of bars, nightclubs, eateries and cafes for all budgets.The lack of a city beach is compensated by the magnificent Esplanade Lagoon.
 Featured image by  @_markfitz #ThisisQueensland